I've come to enjoy the link-sharing that happens on Twitter, but a few months back I found myself with less time to regularly scan my Twitter stream.
Since I don't always need real-time links, devising a mechanism to time-shift, and read at my leisure, seemed appropriate. Furthermore, since I don't mind following friend's del.icio.us feeds with a feed reader, converting tweets-with-links into RSS feeds seemed like a natural fit. After some brainstorming with @karllong and a bit of hacking, tinyLinkFeed was born!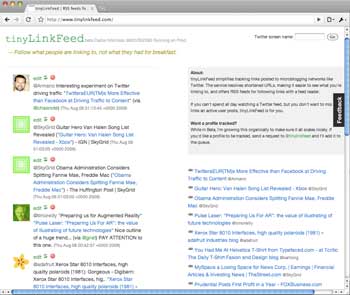 tinyLinkFeed is designed to aggregate microblogging streams (like Twitter), and expose RSS feeds for posts containing URLs. To make the feeds a bit more useful, tinyLinkFeed also resolves shortened URLs, so you know what you're linking to. (The URL un-shortening is done by another webservice I wrote at the same time, called tinyexpander; but I'll save those details for another post.)
Using tinyLinkFeed is pretty straight-forward. For example, my normal Twitter page can be found at http://twitter.com/smartt, so my tinyLinkFeed page lives at http://www.tinylinkfeed.com/twitter/smartt. To follow the links I post to Twitter, you'd point your RSS reader to http://www.tinylinkfeed.com/feed/twitter/smartt.xml. For something perhaps more useful, you might try Tim O'Reilly's link feed: http://www.tinylinkfeed.com/feed/twitter/timoreilly.xml (which is actually one of the main reasons I wrote tinyLinkFeed.)
The application came together fairly quick (it's written in Python and runs on Google App Engine), though I haven't had time to expand it since launch. I have a few ideas on what to add next, but I'm setting up getSatisfaction so you can leave ideas as well.
Adding profiles to tinyLinkFeed's aggregator isn't openly available yet, so if you'd like a profile added, drop a message to @smartt or @tinylinkfeed. I hope you find it useful!